Includes BOOKS, ESSAYS, BROCHURES, REVIEWS & INTERVIEWS about my work:
The 2019 Florida Prize Exhibition Catalog-Orlando Museum of Art
Joan Mitchell Foundation's 25th Anniversary 2018 Catalog excerpts- (I am one of the 25 featured artists)
JMF-Impact Statement and Portrait by EJ.Eldridge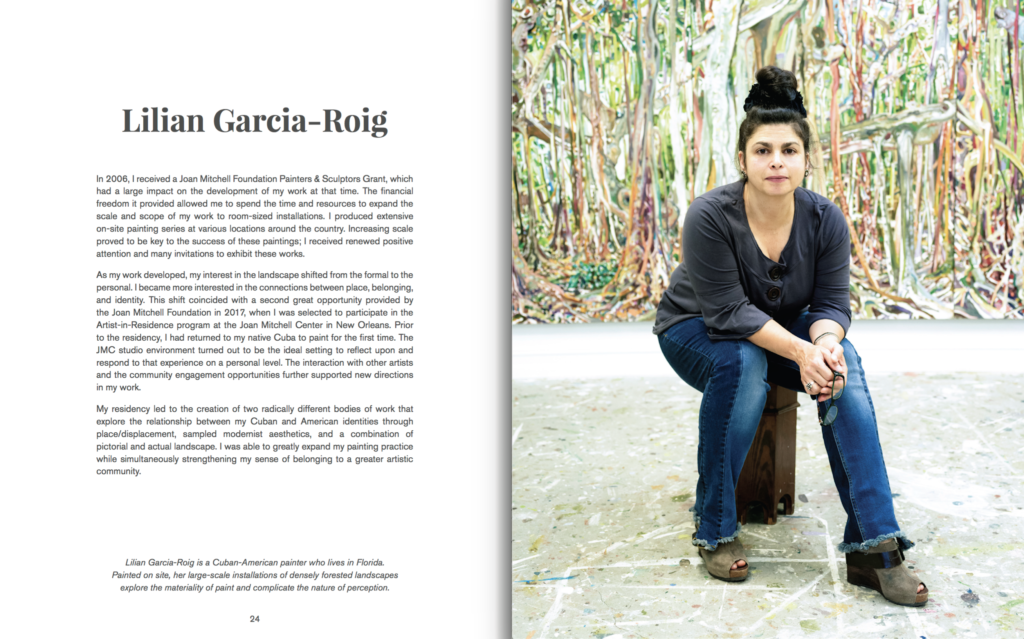 Cuba Lost and Found, catalog essay by Carol Damian for "Hecho en Cuba"/ Reconstructed Sights exhibition at Cernuda Arte, 2018
Hyperallergic review by Gwen Unger of RU @ the Wallach Galleries, Sept. 12 2018
 ART NEXUS review of Relational Undercurrents by Carol Damian, 2017
Relational Undercurrents: Contemporary Art of the Carribean Archipelago, ed. Tatiana Flores and Michelle Stephens, Duke Univ. Press, 2017
Arte Al Dia overview of Relational Undercurrents, by Julia Herzberg, 2017
Curator Tatiana Flores Wows at MOLAA with Caribbean Art, in Palacio Magazine
Everything you need to know about Pacific Standard Time: LA/LA's celebration of Latin American and Latino art, culture, and music, by Sandra Barrera, Los Angeles Daily News, Sept. 13, 2017
Joan Mitchell Center (NOLA), Artist-in-Residence Project, 2017
Comma Project. Volume 1: Ghost Objects, 2017
SMALL AXE ISSUE 51: Contemporary Art of the Hispanophone Carribean Islands in an Archipelagic Framework, by Tatiana Flores and Michelle Stephens, 2016
SMX51 Flores (80-99) *for reading only-to reproduce, go to above link.
New American Paintings #124, 2016
The Ringling Museum, BACK AND FORTH: thinking in paint, 2015
Banyan as Metaphor  brochure, 2015
Martin Museum brochure Lilian Garcia-Roig & James Surls, 2014
Sight Specific @ The MAC, 2013
Valley House catalog: Solid Fluidity, 2012
Arte Al Día International -Chopo Museum; Mexico City, 2012
Norteste Review of "Medios y Ambientes" at the Chopo Museum, 2012
Profile On View Magazine Lilian Garcia-Roig, 2011
Richard Shiff Essay: Catching Up with the Instant, 2011
Polk Museum catalog: En Plein Sight, 2011
MOCA Jacksonville, Hyperbolic Nature brochure, 2010
New American Paintings, home page, Lilian Garcia-Roig, 2010
Space; Unlimited  brochure & essay- Art Museum of the Americas (AMOA) in D.C., 2009
Art Nexus -review by Terri Weissman  of Space;Unlimited @ AMOA, 2009
Huntsville Museum Encounters: Lilian Garcia-Roig catalog & essay by Peter Baldaia, 2008
Mysterious Clarity gallery guide, 2008
Cumulative Nature Art Nexus Review, 2007
Valley House Gallery catalog Painted Woods,  2007
MORE IS MORE: MAXIMALIST Painting catalog, 2007
MAXIMALISM- Lilian Garcia-Roig intro Essay, 2007
Transitory Patterns Florida Women Artists at National Museum of Women in the Arts in D.C., 2004