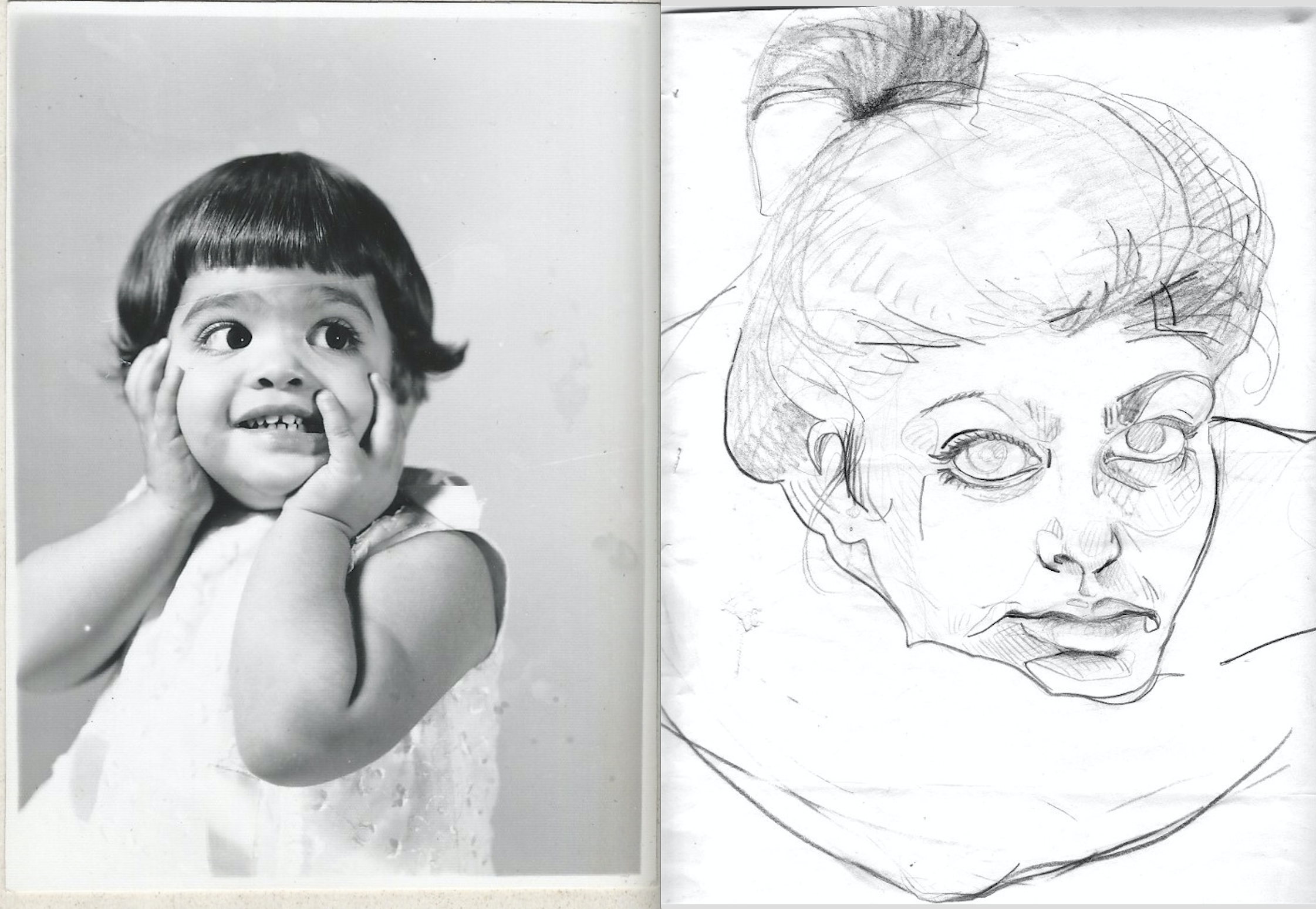 When people ask me where I am from, I instantly respond, "Do you mean where I was born, where I grew up, or where I live now?" Cuba, Texas, Florida? All of them? None of them? Cuban? American? Cuban-American? Maybe I exist only on the Hyphen…where ever that is. I honestly do not yet have an answer to what seems like a simple question to most people but below is an attempt to summarize at least who I am as an artist: what I do & have done.
BIOGRAPHY: Lilian Garcia-Roig
Born in Havana, Cuba in 1966, she was raised and worked in Texas for 30 years but now lives and works in Tallahassee, Florida.  Her latest works feature large-scale on-site painting installations of dense landscapes that overwhelm the viewer's perceptual senses. Each individual painting is created over the course of the day in an intense wet-on-wet cumulative manner that underscores the complex nature of trying to capture first-hand the multidimensional and ever-changing experience of being in that specific location.
Formally her works are as much about the materiality of the paint and the physicality of the painting process as they are about mixing and mashing the illusionist possibilities of painting with its true abstract nature. On a more personal levelall of the on-site works she has made are, at their core, about trying to negotiate the complex propositions of sense of place and belonging which so influence the construction of personal identity.
She has shown nationally at such places as the Americas Society Gallery in NYC, the National Museum of Women in the Arts and the Art Museum of the Americas, both in Washington D.C and extensively in the south, especially in Texas and Florida. Internationally, she has shown at the Chopo Museum in Mexico City and Byblos Art Gallery in Verona, Italy. She had a large work included in "Relational Undercurrents: Contemporary Art of the Caribbean Archipelago" that opened in 2017 at the Museum of Latin American Art in Long Beach as one of the Getty funded Pacific Standard Time: LA/LA  exhibitions which traveled to several museums across the country through 2019.  Recently she was included in the 2019 Florida Prize in Contemporary Art exhibition at the Orlando Museum of Art and in the Florida Contemporary at the Baker Museum in Naples.
Her MFA is from the University of Pennsylvania (1990) and her BFA is from Southern Methodist University (1988). From 1991 to 2000 she was a tenured Associate Professor of Studio Art at the University of Texas at Austin and in 2001 was a Visiting Associate Professor at the University of California at Berkeley in the Department of Art Practice before deciding to move to Tallahassee where she became the Director of Graduate Studies in Studio Art from 2002-2008. She is a professor at Florida State University where she served as Chair of the Department of Art from 2020-2023. In 2023 she was named a Robert O. Lawton Distinguished Professor, FSU's highest faculty recognition.
In 2021 she was named a Guggenheim Fellow in Fine Arts and received the Blackwell Prize in painting. Other major awards include a Joan Mitchell Foundation Award in Painting, a Mid-America Arts Alliance/NEA Fellowship Award in Painting, State of Florida Individual Artist Fellowship Award in painting & a Kimbrough Award from the Dallas Museum of Art.  Residencies include being a visiting artist at the Ludwig Foundation of Cuba, a Skowhegan School of Painting and Sculpture Fellowship, a Vermont Studio Center Artist Fellowship, a Woodstock Byrdcliffe Pollack-Krasner Fellowship, an Art Omi Milton & Sally Avery Fellowship and a MacDowell Milton & Sally Avery Fellowship, among others.
In 2017 she was an artist-in-residence at the Joan Mitchell Center in NOLA where she developed an entirely new body of work ("Hecho Con Cuba") that responded to her experience of finally being able to work in her homeland. While in Cuba, she was able to walk in the footsteps of the great landscape painters who had worked in the iconic Viñales Valley before her. She made a series of perceptually-based work ("Hecho En Cuba") while also thinking about the idea of a hyphenated-nature and hoping that that the Cuban-American perspective she brought with her would produce new works that ultimately offered a pictorial reconciliation between her Cuban and American identities.